The Blue Falcon is a smaller battle machine that can attach to a booster pack to become the Aero Booster.
In the Video Game, the Blue Falcon is shown wielding twin pistols similar to the one the Cyclone Defender has.
Although the name wasn't mentioned in the comics, the name was revealed in a special trivia that is unlockable by entering in all the Exo-Force codebrick numbers.
An interesting and undocumented play feature, the Blue Falcon can connect to the Combat Crawler X2, since it shares a similar connector as the Iron Condor II.
The yellow connector at the right of the cockpit is used to mount the laser cannon from the Aero Booster pack.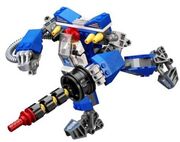 Ad blocker interference detected!
Wikia is a free-to-use site that makes money from advertising. We have a modified experience for viewers using ad blockers

Wikia is not accessible if you've made further modifications. Remove the custom ad blocker rule(s) and the page will load as expected.