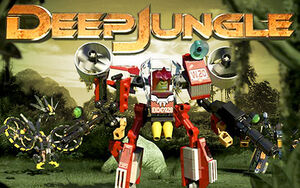 Deep Jungle is a online Game with 4 levels during the Deep Jungle (Era).
Information
The player started by choosing a Human Battle machine, weapons, legs and a Mini Bot. The Hybrid Rescue Tank is the only Battle Machine where only the Mini Bot can be changed. After that, the player have to pass through the Deep Jungle until he/her meet the boss.
External Links
Ad blocker interference detected!
Wikia is a free-to-use site that makes money from advertising. We have a modified experience for viewers using ad blockers

Wikia is not accessible if you've made further modifications. Remove the custom ad blocker rule(s) and the page will load as expected.