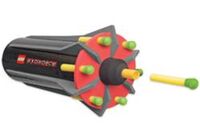 A cannon that was released at legoland MN and legoland CA during 2006. It was based off the Grand Titan's cannon arm and featured a firing action that would luanch a foam dart very similar to those fired by Nerf guns.
Information
The Item number of this toy is 4493793.
This is the same set as 851821 Exo-Force Blaster.
There are six storage holes around the outside for holding darts that are not being used.
Ad blocker interference detected!
Wikia is a free-to-use site that makes money from advertising. We have a modified experience for viewers using ad blockers

Wikia is not accessible if you've made further modifications. Remove the custom ad blocker rule(s) and the page will load as expected.