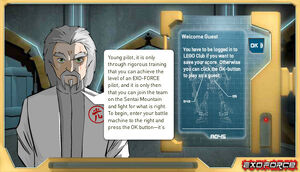 Exo-Force Pilot Training is a online Game, during the 
Split Mountain Era
.
Information
In the Game the player is a new Exo-Force member, begining his/her Training. But before you can complete your Training, the Exo-Force need your Help. You get some missions, like destoying the Striking Venom before te constuction is complete. If you lose, (no more Exo-shield, time or Ammo) you have to play the Game from the start.
External Links
Ad blocker interference detected!
Wikia is a free-to-use site that makes money from advertising. We have a modified experience for viewers using ad blockers

Wikia is not accessible if you've made further modifications. Remove the custom ad blocker rule(s) and the page will load as expected.