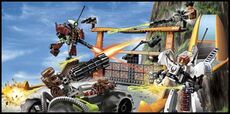 Gate Assault is a set that includes a gate with a Mounted Turret and Rockets, the Gate Defender, an R-1 Rammer and a Sentry II. it has a trigger function that is set off when the R-1 Rammer smashes through the Gate's two doors, it will then cause a Missile to fire and "blow up" the R-1 Rammer.
The minifigures included are Ha-Ya-To , a Tech and three Iron Drones.
Set Information
External Links
Ad blocker interference detected!
Wikia is a free-to-use site that makes money from advertising. We have a modified experience for viewers using ad blockers

Wikia is not accessible if you've made further modifications. Remove the custom ad blocker rule(s) and the page will load as expected.