Hello everyone!
I think its time, that the Exo-Force Games have their pages to!
I already made pages for 
Sentai Showdown Batltle 1
, 
Sentai Showdown Battle 2
, 
Sentai Showdown Battle 3
 (Thank Jeyo for the LInk), 
Exo-Force Shot Session
, 
Exo-Force Pilot Training (Game)
 and 
Deep Jungle (Game)
.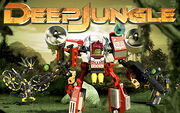 The Links are already there (by Shot Session SSB 1 and SSB 2 is under the game a magnifying glass with a + to make it bigger).
The only Games that lack are Speed Session and Smack Session.
Its good, when you search for some Links or bad grammar in the pages and tell me.
Ad blocker interference detected!
Wikia is a free-to-use site that makes money from advertising. We have a modified experience for viewers using ad blockers

Wikia is not accessible if you've made further modifications. Remove the custom ad blocker rule(s) and the page will load as expected.